Our galvanizing solution treats bridges, walkways, infrastructure, roofs, stairs, ramps, paper and chemical plants, refineries, mines, and food processing plants.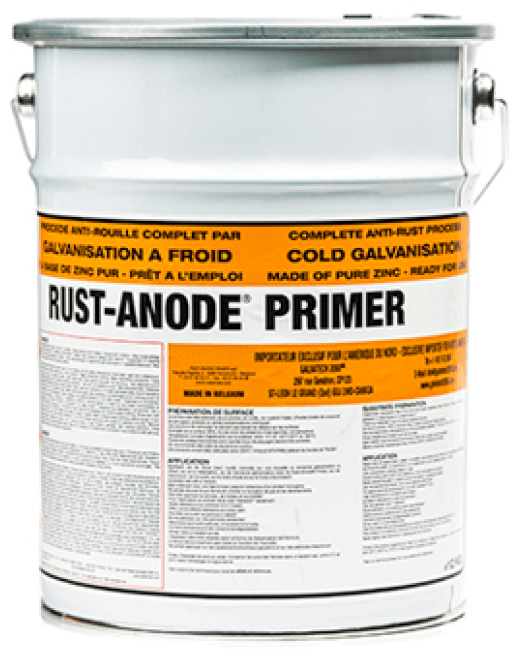 Unique technology for industrial galvanization, rich in organic zinc through electrochemical bonding with 88% zinc content in the dry layer. Offers a lifespan comparable to hot-dip galvanization under the same exposure conditions.
Available sizes: 2 and 12 kilograms.
Characteristics
Benefits
Decontamination
Quality Control
Characteristics
Mono-component product
99.995% pure organic zinc
Lower in VOCs 285 grams/litre
Cathodic protection due to electrochemical bond with the metal
Easy to apply with standard painting equipment, including electrostatic
Can be applied on non-friable rust, free of dust
Can be covered with most paint products
Can be used in duplex over new and old HDG or metallization
Rust-Anode® Primer comes in only one colour: flat grey natural zinc RAL # 7005
An equal dry film thickness of Rust-Anode® Primer provides the same performance as hot dip galvanization or metallization.
No structural distortion
Flexibility
Permanent adhesion
No cathodic disbondment
Follow thermal expansions
Moisture cured, without dew point
High resistance to saltwater and salty environments
Can be applied to aluminum, stainless, corten, cast iron, (all metals), concrete and existing paint after minimal cleaning
Resists to hydrocarbons such as hydraulic fluid, diesel, gasoline, urea, etc.
Dries quickly (hygro-reactive) in moist environments
Can be used at any time to retouch Rust-Anode® Primer coated surfaces
Can be applied at temperatures from –5°C and +37°C (23°F to +98°F)

Meets ASTM B117 (Salt Spray Test), ASTM D522 (Mandrel Bend Test), CAN/CGSB 1-GP-71 Method 119.5 and CAN/CGSB 1.181 and Canadian Food Inspection Agency standards
Benefits
Decontamination
Quality Control
Hot-Dip Galvanization

Rust-Anode® Primer

Active cathodic protection

Zinc dry film thickness control

Minimal substrate preparation

Application with standard paint equipment

Low energy-consuming process

Applicable on various metals:

On a new hot-dip galvanization or metallization

On old hot-dip galvanizing or metallization

Bending flexibility of galvanized parts

Equivalent protection performance as hot dipped galvanized

Process with No delay to your production schedule
Our projects in the structures area
Quinze Dam, Angliers, Abitibi-Témiscamingue
Regeneration of a bridge with a hot-dip galvanized steel structure over 40 years old
Our team of highly qualified professionals, certified by NACE/AMPP, is dedicated to addressing your technical inquiries. Whether you are a client or working alongside one, we are committed to collaborating with you in order to identify the root causes of your rust and corrosion issues and find an effective solution. Through our expertise and experience, we will develop a customized protocol of application that includes surface preparations, application methods, and quality control measures. Our goal is to provide you with a customized approach that resolves your current rust and corrosion challenges and ensures long-lasting protection for your assets.