The Rust-Anode technology has proven itself for electrical and telecommunication transmission towers.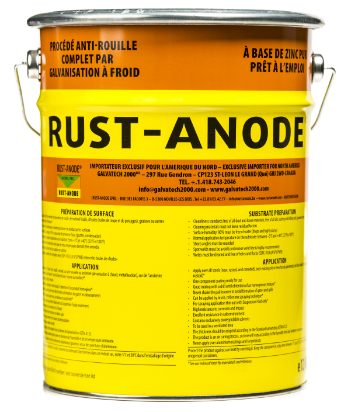 Unique technology of industrial galvanization, rich in organic zinc through electrochemical bonding with 96% zinc content in the dry layer. Offers a lifespan comparable to hot-dip galvanization under the same exposure conditions.
Available size: 12 kilograms.
Characteristics
Decontamination
Quality Control
Characteristics
Mono-component product

99.995% pure organic zinc

Low VOC

Cathodic protection due to electrochemical bond with the metal (measurable [

Ω

 resistance])

Easy to apply with standard painting equipment

New steel, surface preparation required: SSPC-SP7 or SSPC-SP6, or acid, depending on case

Can be applied on non-friable rust, free of dust and grease

Can recharge existing zinc from hot galvanization

Rust-Anode® comes in only one colour: flat grey natural zinc RAL # 7001

An equal dry film thickness of Rust-Anode

® 

provides the same performance as hot-tip galvanization and metallization

No structural distortion

Metal with Rust-Anode

®

 on, can be welded through with less of the release of toxic gases or flash

Has anti-fouling properties

High resistance to saltwater and salty environments

Dries quickly

Can be applied at temperatures from –5°C to +37°C (23°F to +98°F)

Meets ASTM B117 (Salt Spray Test), ASTM D522 (Mandrel Bend Test), CAN/CGSB 1-GP-71 Method 119.5 and CAN/CGSB 1.181 and Canadian Food Inspection Agency standards
Decontamination
Quality Control
Hot-Tip Galvanization

Rust-Anode®

Active cathodic protection

Zinc dry film thickness control

Recharging of existing zinc

Minimal substrate preparation

Application with standard paint equipment

Low energy-consuming process

Distortion of galvanized parts

Applicable on various metals:

On a new hot-dip galvanization or metallization

On old hot-dip galvanizing or metallization
Our projects in the towers area
Towers on the Sir Adam Beck Hydro Generation, Ontario
Telecom Tower / Pembina, Alberta
Transmission tower, Toronto, On
Our team of highly qualified professionals, certified by NACE/AMPP, is dedicated to addressing your technical inquiries. Whether you are a client or working alongside one, we are committed to collaborating with you in order to identify the root causes of your rust and corrosion issues and find an effective solution. Through our expertise and experience, we will develop a customized protocol of application that includes surface preparations, application methods, and quality control measures. Our goal is to provide you with a customized approach that resolves your current rust and corrosion challenges and ensures long-lasting protection for your assets.